Booty Parlor | Self-Love Spotlight | Ashley
"I feel sexiest and most confident when I feel free."
Name: Ashley
Age: 28
Location: San Diego, CA
Relationship: Totally Smitten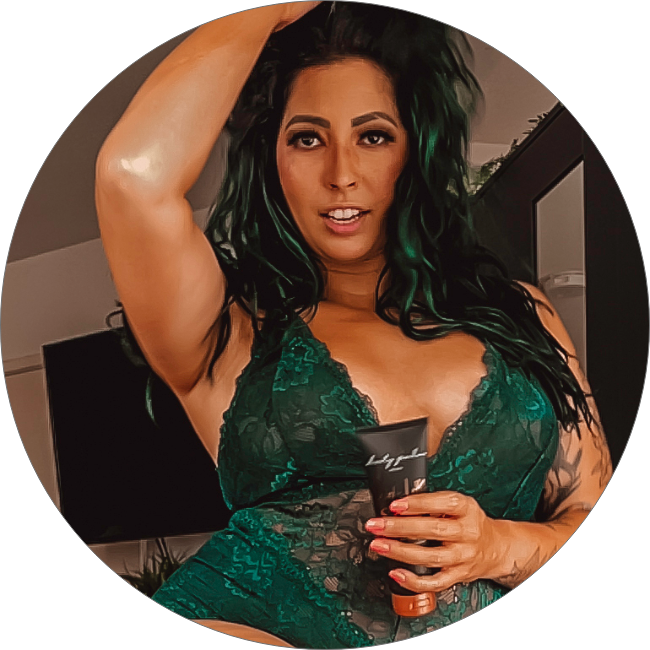 When we spotted Ashley, we knew that with her carefree soul and beautifully confident nature she had to be a Self-Love Spotlight.
Her passion for movement, body positivity, and making a difference in the world is truly inspiring.
Ashley didn't reach this place of unyielding self-compassion on her own - it took a lot of hard work and years of practicing self-love on the daily. Plus, she keeps a few confidence-boosting tricks up her sleeve… like our Flirty Little Secret Trio and Kissaholic Aphrodisiac Plumping Lip Gloss!
In this interview, Ashley talks about what self-love and sensuality mean to her and dishes about her all time favorite Booty Parlor products.
Q. What does self-love mean to you and how do you practice it?
It took me 28 years to finally get to the point where I stopped looking at myself with hatred in the mirror, and that was really big for me.
I've been really focusing on how I can slow down - asking, how can I take care of myself, what are my needs...I 'd love to tell my younger self to stop being such a people-pleaser, to do things for me…to ask how I want to look while staying true to myself.
To me, self-love is taking time - whether that's physically or mentally - to just sit and really be in the moment...and this translates into all aspects of my life: working, teaching dance…I make myself a priority.
Q. How Do You Inspire Your Sensuality?
It's something that took a lot of practice, and it's still a daily thing… I'm looking at myself through a more loving lens… appreciating and being grateful for my body, for myself.
Sensuality is staying true to me, taking away all the societal pressure and focusing on how I feel, what I need to do, and what I want…. It's changed my life… as soon as I took out all the other voices it's like I could hear myself again.
I think my best advice is to own it, live in your truth and be aware that you are so special regardless of what you ate that day or if you skipped your workout… it doesn't really matter in the end, what matters is how you feel.
Q. Tell us about favorite Booty Parlor products and how you use them?
I'm obsessed with the Kissaholic Aphrodisiac Plumping Lip Gloss.
Throb is to die for. It's the perfect tint of red, not too bright, not too light, and it has a little bit of shimmer too.
They just feel so good… there's like a minty kind of feeling to it, the plumping effect - I love it!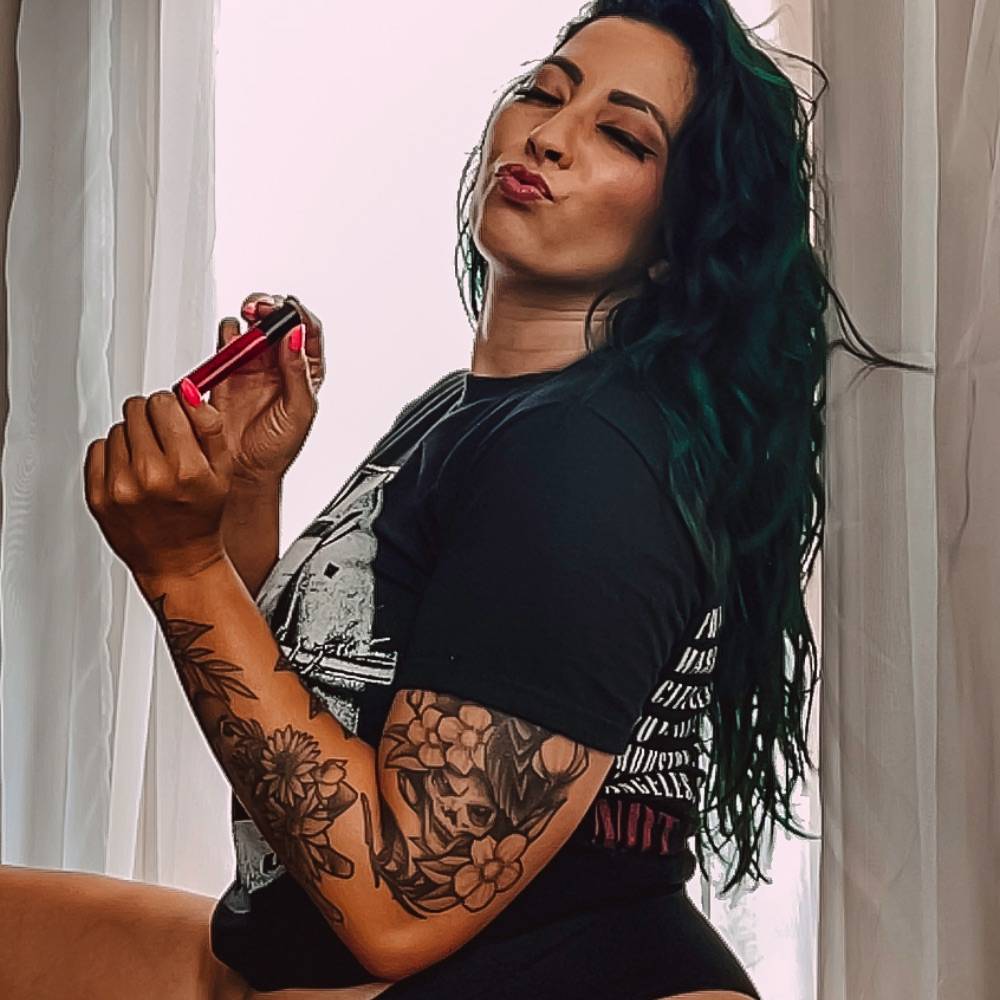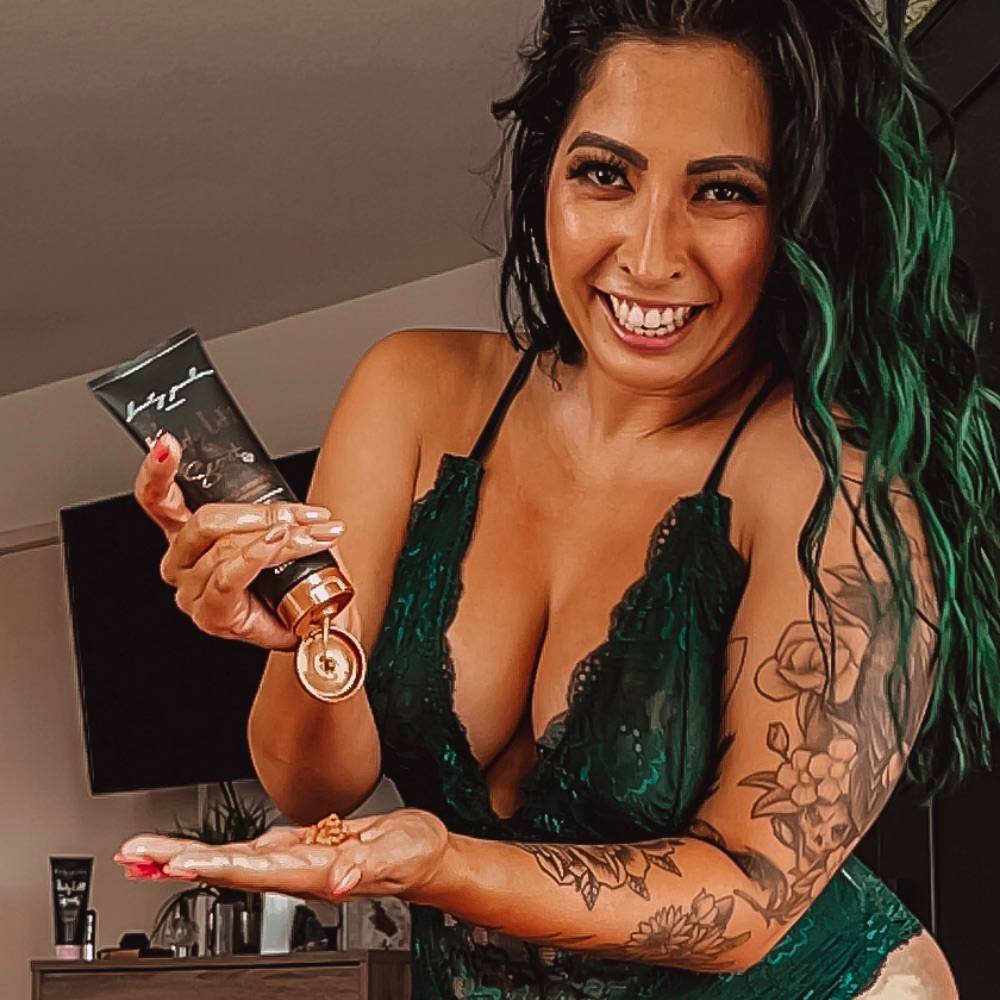 I love the Flirty Little Secret Firming Bronzer!
I perform on stage so I use the bronzer on my legs, my arms, any part of me that's exposed and oh my gosh, the glow I get from it!
I've spray tanned for years, it's a commitment and it comes off patchy after like a week, but this stuff, I put it on and it lasts as long as I need it to… No streaks, no patches, it washes right off in the shower.
The whole Flirty Little Secret Trio is amazing!
I start with the Firming Cream once I'm out of the shower….and the smell of it is the most perfect scent - it's light but it's sexy, soft and creamy, it applies really well.
Of course I follow up with the Bronzer.
Then the perfume oil...I always put it on my wrist and behind my ears. I actually wear it in combination with my other perfumes… when I wear this to work I can't help but hope I meet a little cutie!
Want to put your Self-Love Spotlight?
Every month, we invite one Booty Parlor fan to tell our Founder Dana B. Myers all about their journey to self-love and sensuality.
In exchange, we gift you with some of your favorite Booty Parlor products and you'll be the star of a virtual boudoir photo-shoot with BP photographer Tori Elizabeth.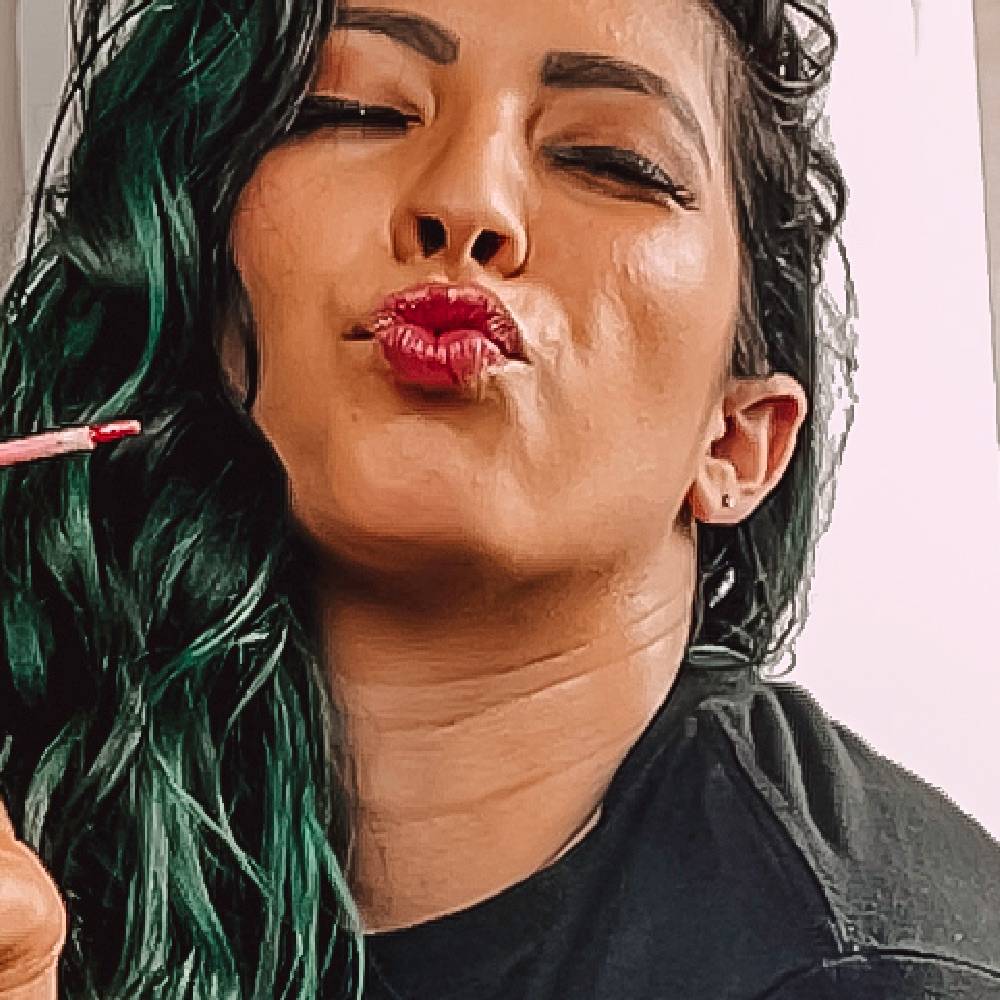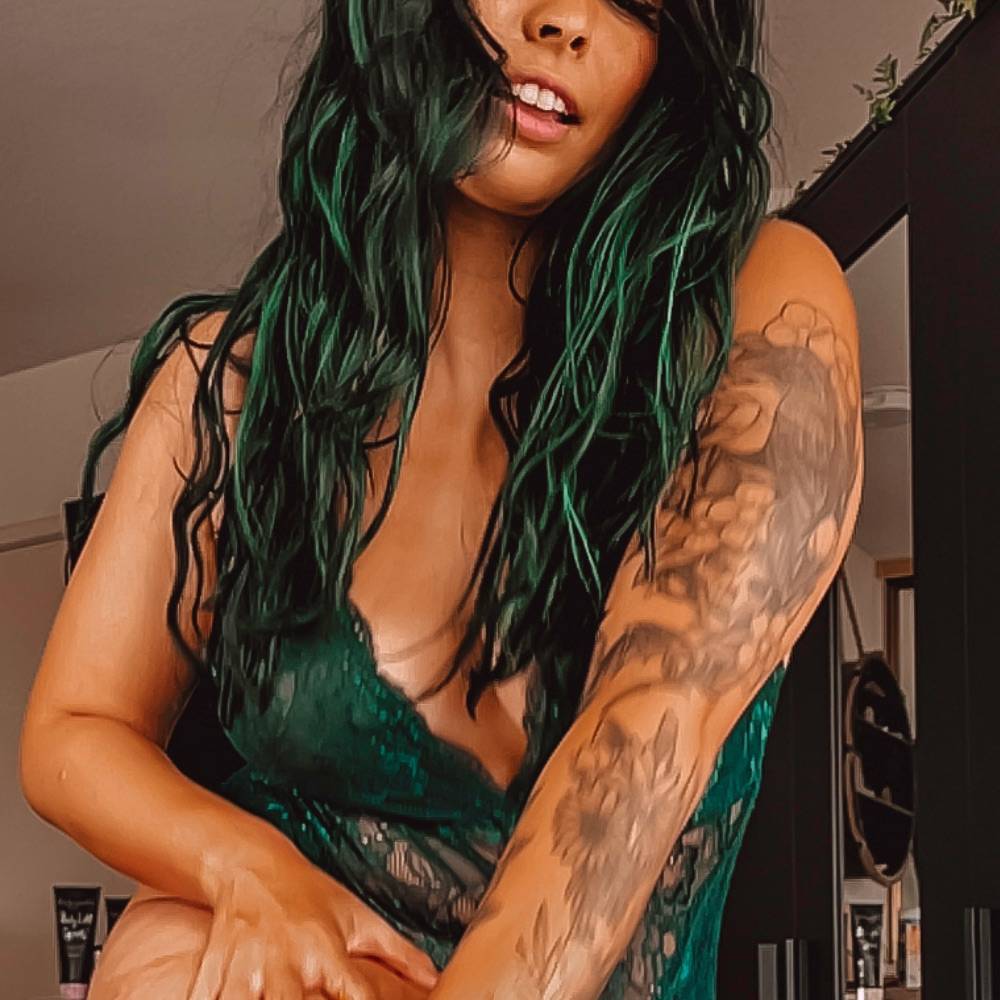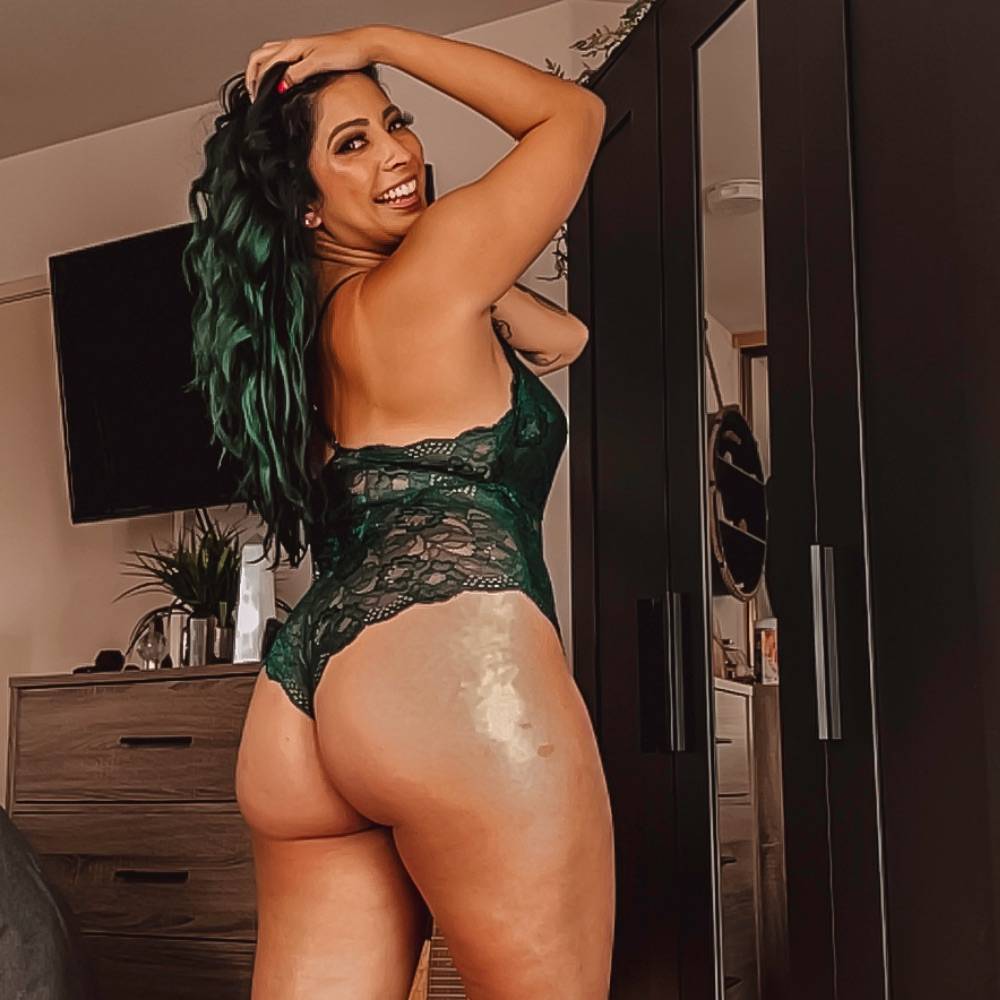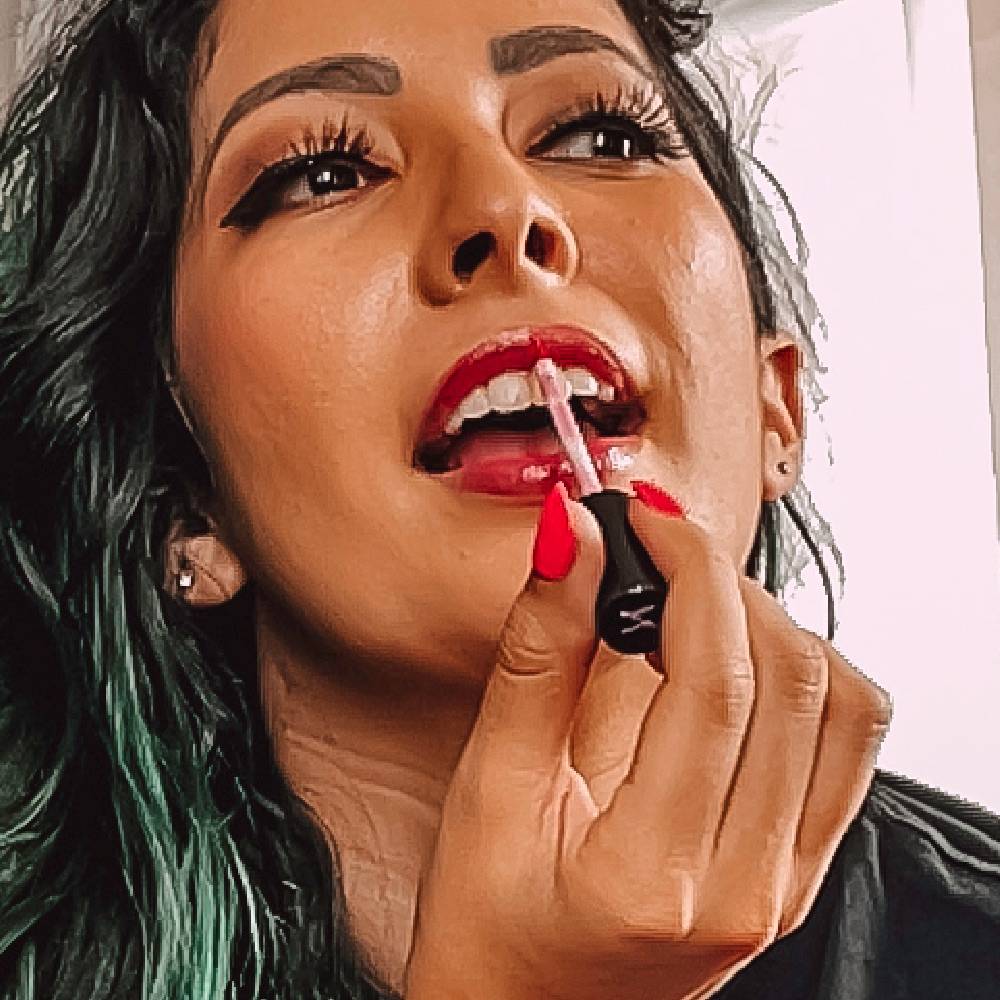 What do you think about Ashley's Self-Love Spotlight?
Do you use Booty Parlor products to help you feel sexy and confident?
Let us know in the comments section below.
---